Now is the perfect time to celebrate Asian Heritage Month, not just in Canada but wherever you are.
In the wake of successful Hollywood blockbusters like Crazy Rich Asians, Asian representation is having a moment right now — and it's about time! Our beloved Sandra Oh is on the cover of Elle, Netflix specials like Always Be My Maybe and Never Have I Ever are dominating our couch time, and Marvel is producing it's first superhero film with an Asian lead! If that isn't a sign that we've "made it" then I don't know what is.
One of Canada's greatest strengths has been celebrating diversity and to that point, the month of May has been designated as Asian Heritage Month since the 1990s. While mainstream media still has a long way to go in terms of equitable representation of Asian, we're definitely headed in the right direction.
---
RELATED READING:
➳ What 'Crazy Rich Asians' Means To Me, A Canadian-Born Chinese
➳ What It's Like To Date From The Perspective of An Asian Woman
➳ 6 Ways You Can Be More Kind To Yourself This Valentine's Day
---
Expand your cultural knowledge and celebrate Asian Heritage Month from the comfort of your couch by watching these shows:
Kim's Convenience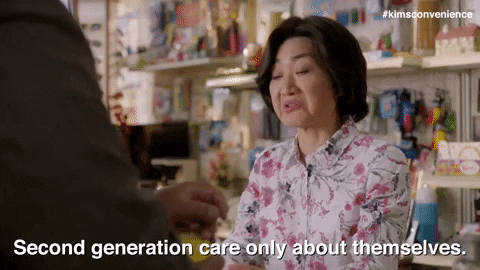 Kim's Convenience is the ultimate Asian Heritage month watch for several reasons. Not only is it produced by CBC but it's based on a successful stage play that premiered at the Toronto Fringe Festival AND it centres around a Korean-owned convenience store set in Toronto.
The Kim family was written as "well-rounded Asian characters with depth." It explores the Asian immigrant experience and generational differences like how the parents react to their daughter pursuing an education in the arts (versus something more practical like accounting). Being an a graphic design degree toting Asian-Canadian myself, I could relate.
Bonus: The super dreamy Simu Liu plays Jung, the often inexplicably-but-delightfully shirtless brother/son who is depicted as a ladies' man. It was a welcome change to see an Asian man portrayed as desirable in media instead of being emasculated.
Killing Eve
Name one Asian person who isn't obsessed with Ottawa-born Sandra Oh. But seriously, give me their name. I will make it my mission to see that they are deported because she is a national treasure.
You probably recognize her from her titular role as Cristina Yang on Grey's Anatomy but you MUST watch her performance on the hit show, Killing Eve. This British thriller tracks an obsessed British intelligence investigator tasked with capturing psychopathic assassin in a gasp-inducing cat-and-mouse- game. It'll shock you to your depths and have you checking under your bed for monsters (and serial killers) before going to sleep if you're anything like me…
Bonus: Not only did it earn her a Golden Globe as the first actress of Asian descent in almost 40 years for best leading TV actress but it made her the first Asian performer to win multiple Golden Globes. As if that wasn't impressive enough, she was also the first Asian to co-host the Golden Globes period. I'm telling you — national treasure.
The Farewell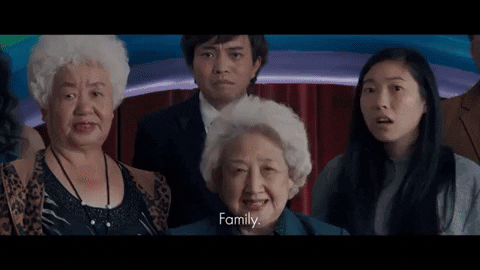 The Farewell follows New York City-based artist, Billi (played by Awkwafina) to China as she and her family struggle to say goodbye to their beloved nai nai(paternal grandmother), the only one who doesn't know that she's dying from cancer. Grab a box of tissues — it's a tear-jerker.
The film doesn't just authentically represent the Asian identity but also conveys the fundamental differences of values between East and West, being that the former values sacrifice of the individual self in favour of the whole — family and/or society. The Farewell examines a specific experience and shows how it's approached through a cultural lens.
Bonus: It was Awkwafina's (née Nora Lum) best performance yet. She's killing it — from snagging parts in huge Hollywood blockbusters like to getting her own tv series that recently premiered on Comedy Central. For her role in this movie, she became the first Asian-American to take home the Golden Globe Award for best actress in the musical or comedy category.
Fresh off the boat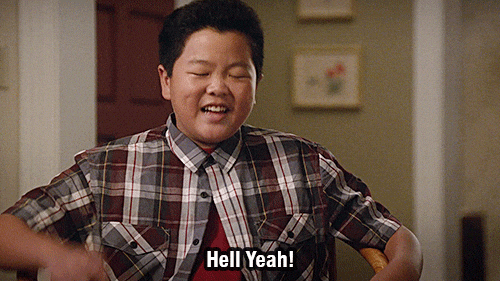 Loosely based on the true story of celebrity chef, Eddie Huang, Fresh Off The Boat was the first network show in 20 years to feature an Asian-American family. How could this not be on the list of shows to watch to celebrate Asian Heritage Month?? The show follows the Huang clan as they move from Washington DC to Orlando Florida as the patriarch of the family — played by Randall Park — chases the American Dream….that he somehow got into his head was hiding in the Sunshine State…
This quote from an article on Deadline explains what was so important about the development (and longevity) of this show:
"Whether you watched the show or not, Fresh Off the Boat is a watershed moment for representation and inclusive storytelling.
This sparked a movement that still manages to strive ahead, as we see more Asian American faces and other representations of marginalized voices on TV and film."
Always Be My Maybe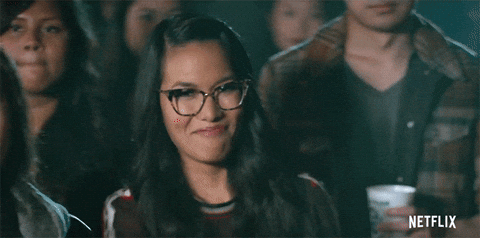 Co-written and starring comedy queen Ali Wong, this Netflix rom-com features an all-Asian-lead cast following childhood friends growing up in San Francisco who eventually fall in love.
It's a story that audiences can relate to while poking fun at funny-but-true stereotypes like how the parents of celebrity chef, Sasha Tran (played by Ali Wong) prove their love to their daughter by paying full price for extra shrimp at one of her restaurants.
Bonus: Keanu Reeves makes a hilarious cameo and he's Canadian AND part Chinese. Double Asian Heritage Month whammy. Stick around to listen to the end credits song because "I Punched Keanu Reeves" is pure gold.
Crazy Rich Asians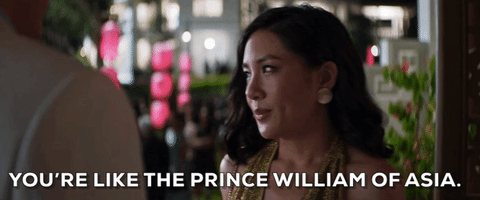 Duh. Could this list be complete without this box office hit? If you've read this post, then you already know how I feel about Crazy Rich Asians and what it means to me. But I'm going to tell you AGAIN why you should watch it (or re-watch it) to celebrate Asian Heritage Month.
This film was the first major Hollywood film since The Joy Luck Club in 1993 featuring an all-Asian cast. Not only that, but it was developed with absolute integrity for the Asian-American story from refusal to whitewash characters to rejecting a Netflix payout in favour of a box office production to reach the widest audience possible.
Besides that, it was just a really opulent, frothy summer rom-com of an all too familiar fish-out-of-water tale that happened to showcase Asians in a variety of roles beyond the typical stereotypes we've come to expect.
Bonus: My only celebrity crush before this was Justin Trudeau (I know…) but now I can add Chris Pang, Pierre Png, Harry Shum Jr, etc…to the list! Ok, so my bonus was really superficial but it doesn't make it less true.
Mary Queen of Scots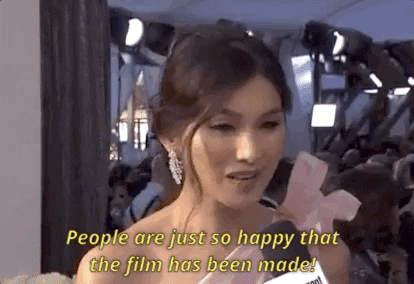 If nothing else, this movie made it on the list for the colourblind approach to casting and Gemma Chan's articulate response to internet trolls on being cast as a historically white figure:
"Why are actors of color, who have fewer opportunities anyway, only allowed to play their own race? And sometimes they're not even allowed to play their own race… If John Wayne can play Genghis Khan, I can play Bess of Hardwick."
Talk about a role reversal!
She goes on in an interview with Allure to reference to how theatre — Hamilton in particular — has effected the diversification on casting in historical stories set in Europe and North America. "…I think our art should reflect life now." Perfection.
---
While it's nice to have a month that's dedicated to celebrating the history and culture of Asian Canadians, I hope that diversity and representation is something that we continue to strive and celebrate all the time. Personally, it's been refreshing and validating to see people like me on screen. I wish I had had that when I was growing up but the future is looking promising.
If you want to read more about how I feel about my Canadian-born Chinese heritage, check out this post about my thoughts on Crazy Rich Asians.
Keep your stalking game strong and follow me @teriaki if you aren't already!